We live in a golden age of technological innovation with the potential to enrich teaching and learning. But teaching and learning with technology won't happen by buying the best devices or leaving it to hip young teachers. We need a clear strategic direction and effective methodologies. This calls for a joint effort from school leadership and teachers to revitalise our teaching with technology.
What's at stake here is not just the capacity of our students to flourish but the capacity of all of us to teach and learn effectively in a digital culture. 
We are accustomed to thinking of educational technologies as new and those who enjoy teaching with them as innovative. But the exhortation to teach ICT skills across the curriculum is old and in many cases the innovators are just following the curriculum.
Since the late '80s, ICT skills have been consistently emphasised as key cross curricula capabilities in guiding national curriculum documents such as the Hobart, Adelaide and Melbourne Declarations on National Goals for Schooling. These skills were embedded in the curriculum because our savvy policy writers provided a heads-up on the coming digital age.
In this respect, both the ICT capability and the Technologies curriculum are not entirely new but a realisation of this long-standing national vision. Despite this substantial emphasis on ICT in the curriculum, multibillion-dollar investments in educational technologies, and a renewed focus on STEM and coding, teachers have struggled to make this vision a reality.
There is an entire backstory that may help explain why ICTs are not more prominently embedded in the curriculum. Firstly, initial teacher experiences with technology were often frustrating and disabling, and this conditioned teachers to adopt a conservative attitude to in-class technology integration. Secondly, when devices were adopted by schools, a lack of training in ICT integration contributed to an ad-hoc use of technology.
Pockets of pedagogical excellence occurred alongside tech avoidance. Thirdly, school leadership did not anticipate the extent to which the use of ICT impacted on pedagogy. Fourthly, in our quest to make ICT a general capability, we seem to have lost the specificity that computing as a distinct subject offered, and specialised in neither. We need to realise that effective teaching and learning in an analog environment was quite different to effective teaching and learning with technology. 
Although we have experienced many pedagogical and curriculum challenges with ICT, the technical environment for teaching with technology has only improved. For many schools, internet bandwidth has increased; Wi-Fi is ubiquitous, devices are better and cheaper, software is easier to use and often free. So what's holding us back now? We argue there are two challenges: (1) the legacy of caution around using ICTs and (2) uncertainty about how we rigorously and methodically integrate ICT across the curriculum. 
This article is an attempt to address these issues. We want to use our collective experience from Catholic Education Western Australia to put forward some ideas about how educators can better plan, evaluate and integrate ICT in the curriculum. To do this, we will explore the TPACK and SAMR models for technology integration. We will investigate our use of telepresence and online learning and look at how teachers can employ new pedagogies such as gamification. 
---
ICT integration across the Curriculum 
One of the least effective ways of using ICT is to simply bolt it on to existing curricula. This is a bit like sticking a rocket on a kid's bike to help them get to the top of a hill.  As you can imagine, the technologies clash and all sorts of unintended effects follow. To use technology well, especially in education, you have to plan authentically for its integration.
Mishra and Koehler (2006) have provided a valuable model for ICT integration titled TPACK (Technology, Pedagogy and Content Knowledge). TPACK extends the work of Shulman (1986) who reminded us that having expert content knowledge (CK) is very different from communicating (PK) that knowledge. We need both. 
The TPACK model asks teachers to give equal weight to technology in planning. In the Australian context, we'd like to add one more element to the model, the General Capabilities (CAPb). Adding the capabilities is important because 21st century skills are useless unless you solve problems with them and communicate their value to a captive audience.  We argue that  these four elements are the pillars of contemporary curriculum design and the starting point for effective teaching in a technologically enabled environment  (see Figure 1).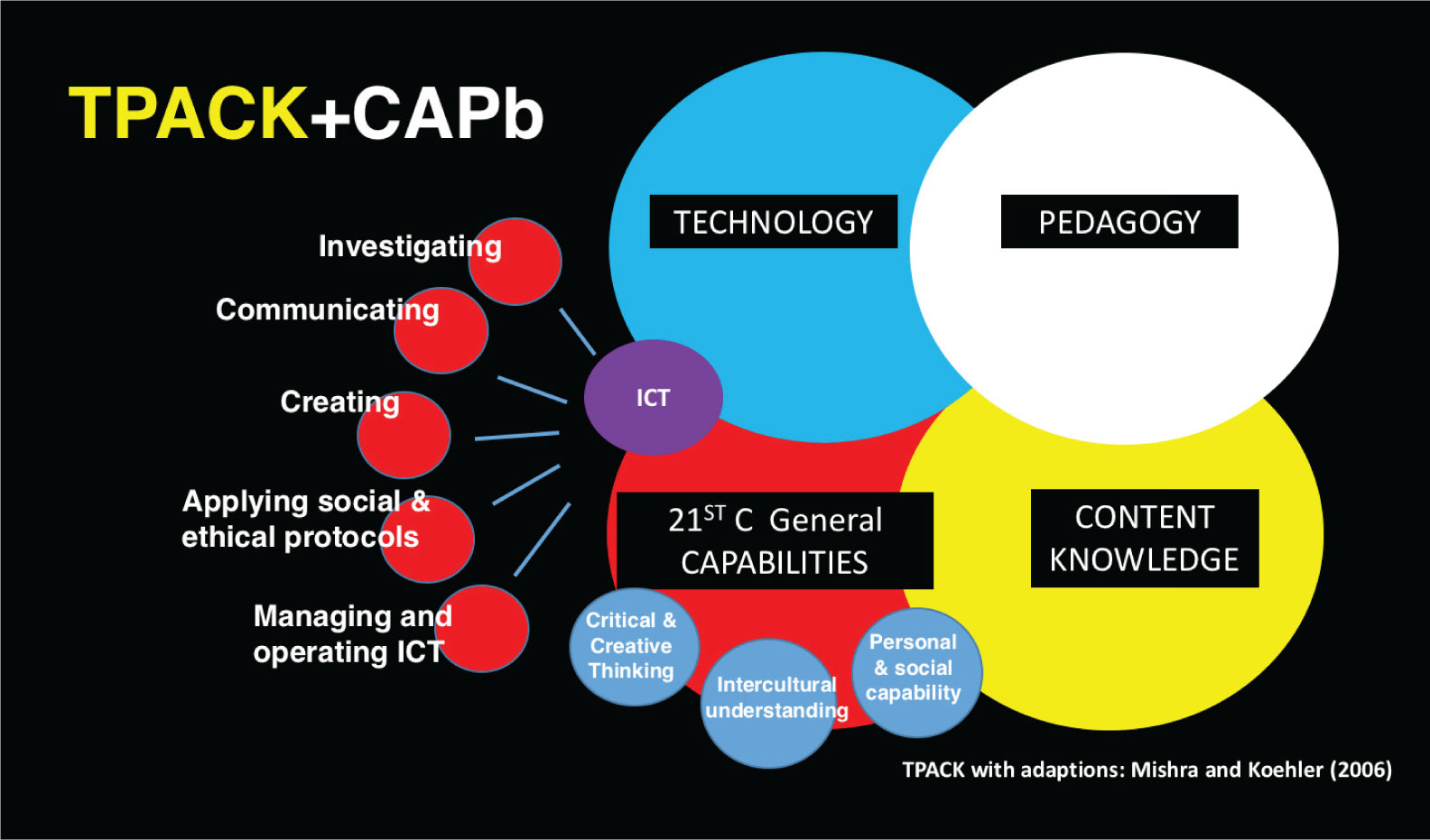 Figure 1: TPACK + CAPb
While Mishra and Koehler have provided a framework for conceptualising and integrating ICTs in the curriculum, Ruben Puentedura's SAMR (Substitution, Augmentation, Modification and Redefinition) model evaluates the quality of technology integration. Substitution refers to an entry level use of ICT which duplicates the analog world eg., reading a book is equated with reading a document online.
Augmentation refers to the use of ICT to enhance learning, eg., an online book might include hyperlinks to synonyms or pronunciation available instantly to the reader. Modification and Redefinition refers to the use of ICT to construct tasks that were inconceivable in the analogue world. An example from the English curriculum might be asking students to plan,  
make and post a high-quality video review of a novel on their website to demonstrate critical thinking and reading comprehension. 
Teachers can use the SAMR model to improve teaching and learning by working with peers to assess units and lesson design. Curriculum leaders might find it useful to set aside time with curriculum teams to review, evaluate and redesign units using the SAMR model. The point of the SAMR model is not to design tasks that redefine curriculum and learning every time a teacher uses ICT. After all, marking the class attendance roll online is about as innovative as marking the roll offline.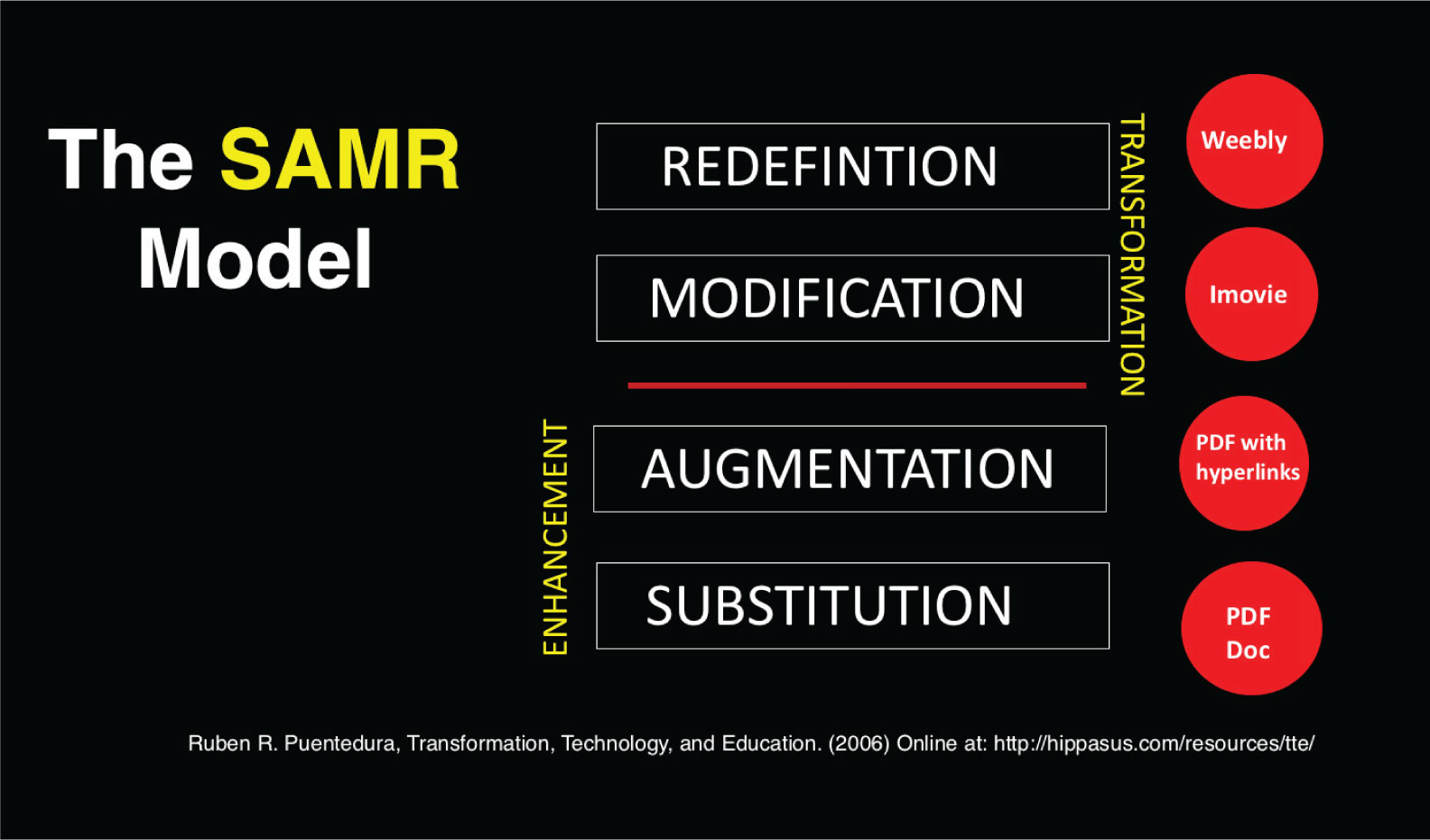 Figure 2: The SAMR Model
Rather, it is about developing an awareness of the way you are employing technologies for teaching and learning. That said, in our experience, teachers can make substantial improvements to their integration of technology when they use the SAMR model to redesign assessments and provide choice in how students demonstrate knowledge and skills. 
The TPACK and SAMR models provide educators with a way to construct and evaluate technology integration in the curriculum; however, we also need to think about tech integration in specific lessons. To do this, we have drawn on the literacy teaching model of Hammond (2001) and Love (2005), and given it a digital spin (see Figure 3). The diagram illustrates that some technologies and applications have natural homes in different phases of the learning and teaching cycle.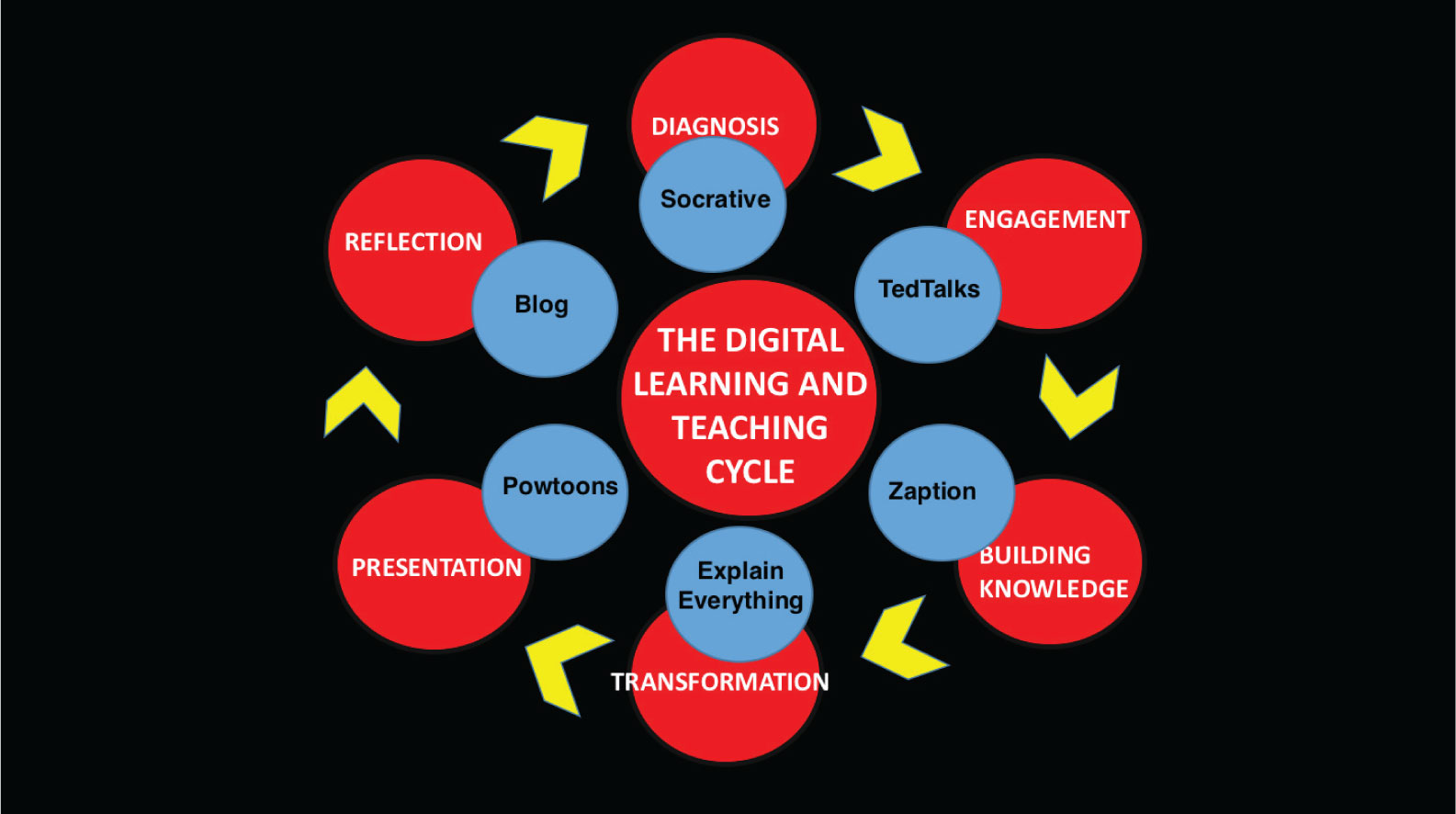 Figure 3: The Digital Learning and Teaching Cycle
Although we don't expect teachers to use an app at every stage in teaching and learning, it is useful to start thinking about where these applications fit and what their purpose is. Now that we have established some ways to plan and evaluate ICT, it is worth looking at how this strategic thinking impacts in authentic environments through specific pedagogical initiatives.  
---
Online Learning: Live and On-demand 
One of the advantages of the connected world is that we can extend learning and teaching beyond the classroom. In Catholic Education Western Australia we've been exploring ways to leverage technologies such as online learning to strengthen school capacity from Kununurra to Esperance. To achieve this, we are using both live online video conferencing and bespoke online courses. The purpose here is to provide teachers with access to skills and knowledge that is relevant, scaleable and doable at any time. In a school context, examples include teaching languages in real time and delivering professional learning and meetings through teleconferencing.
While the provision of flexible and diverse professional learning opportunities are well suited to distance education in the regions of Western Australia, they are increasingly a feature of metropolitan schools. No doubt this trend is here to stay. 
One of the unforeseen aspects of teaching with technology is that technology changes the way we communicate. For example, in the live online context, we have developed methods and  protocols to enhance the experience for teachers and learners. Some of these include: 
Setting up the physical environment to maximise face-to-face connections
Establishing ground rules so the participants can relate to each other effectively during the session, eg. how to ask questions; care of movement within the session so as not to interrupt the facilitator 
Designing live instruction so that it engages participants in active learning 
Using backchannel apps like TodaysMeet and Padlet to enable active and collaborative learning 
Flipping the instruction model and providing content prior to the engagement to ensure a more dialogic model of learning.
These digital protocols are critical for developing an effective way to deliver a teleconference, yet they are often the very things that educators forget to develop because they are in such a hurry to teach their content. Our experience suggests that it is worth taking the time to work out how to engineer the environment and the technology for the best learning outcome. 
As we are in such a large state, we've also been trialling online courses to develop our staff. This strategy is popular with not just people in regional areas but in the metro area as it saves time and delivers learning at the point of need. The on-demand courses have been designed to provide pedagogy-focused professional learning across a range of topics.
These one-hour long courses use a mix of video, visuals and text to guide learning. Participants can get access to the resources at a time and place of their choosing and complete the course in one sitting or spread the learning out over time. The courses can be completed by individuals, small groups or a whole school staff. Our pedagogical challenge has been to avoid the pitfall of the MOOCs movement, which is notorious for non-completion. To address this, our online courses include an embedded challenge to be undertaken in participant schools and which is signed off by leadership. 
---
Creating Engaging Online Courses
In the traditional analogue classroom, students are limited by the information that the teacher has access to. But in a digital classroom, great minds and great ideas are at kids' fingertips. The challenge for educators is to leverage this world to make engaging content that links students online to the classroom offline.
Students need to connect and relate in all spaces. This can be achieved through the use of an LMS (Learning Management System) and backchannel spaces that encourage chat and collaboration. This demonstrates how fluid and flexible the space of learning has become. Digital content must also provide spaces where students can speak, investigate and collaborate. 
Online spaces should also be differentiated in the way a classroom ideally is. In the online space, we can ask ourselves:  have we provided students with information presented in a visual form? Can they read an article?  Can they analyse a series of images to process the same information?  
We then need to provide opportunities to demonstrate understandings in a different way. Allowing students to display their understandings using a variety of modalities provides a chance for students to take control of their learning and become critical producers of content themselves, as opposed to simply regurgitating information supplied by the teacher. Students then need an avenue through which to display and share their understandings with others. Blogs, for example, provide a wider audience for the content, making learning more authentic and purposeful for our students.
Technology is changing rapidly and as educators we need to build our own capacity to respond to this change for improved outcomes for our students. In creating content, we need to be agile enough to give our students multimodal representations of content that links with their preferred learning styles. We need to consider how we involve our students in the learning as opposed to students "having learning done to them" and we need to use a variety of tools to digitise the curriculum to make it accessible to students and in return, allow students the freedom to represent their learning in a way most meaningful to them.
We want to close our discussion of integrating technologies by thinking about the process in which we implement new pedagogical styles such as gamification. When educators hear the term gamification they often envisage games created for educational purposes like Mathletics or SpellingCity, but gamification is more than using applications. It is about strengthening the effect of a present core experience by applying the motivational techniques that make games so appealing to audiences. Trying again and again and again is not failing. It's having fun and it's a path to mastery. 
Gamification takes the data-driven techniques that game designers use to engage players and applies them to non-game, real-world experiences to motivate students both in and out of the classroom. Digital resources such as Classcraft, an educational role-playing game where students can level up, work in teams and earn powers that have real-world consequences, enable visible motivators and student progress. Through friendly competition, gamification helps students better understand content and relate it to real-life risks and rewards. Tools such as Classcraft teach meaningful collaboration by placing students in teams to face up to challenging yet achievable goals.
Figure 4 outlines a process for gamifying the curriculum. You can't go wrong by using online quizzes. Quizzes engage students immediately and build the vocabulary required for learning a specific field of knowledge. Using interactive quiz tools such as Socrative or Kahoot means that students are engaged in the content and receive immediate feedback based on their answers. Teachers can  keep records of student performance and use badging to incentivise. It is up to the teacher to decide whether or not students can see where they rank among their peers on certain tasks and whether results will be made public.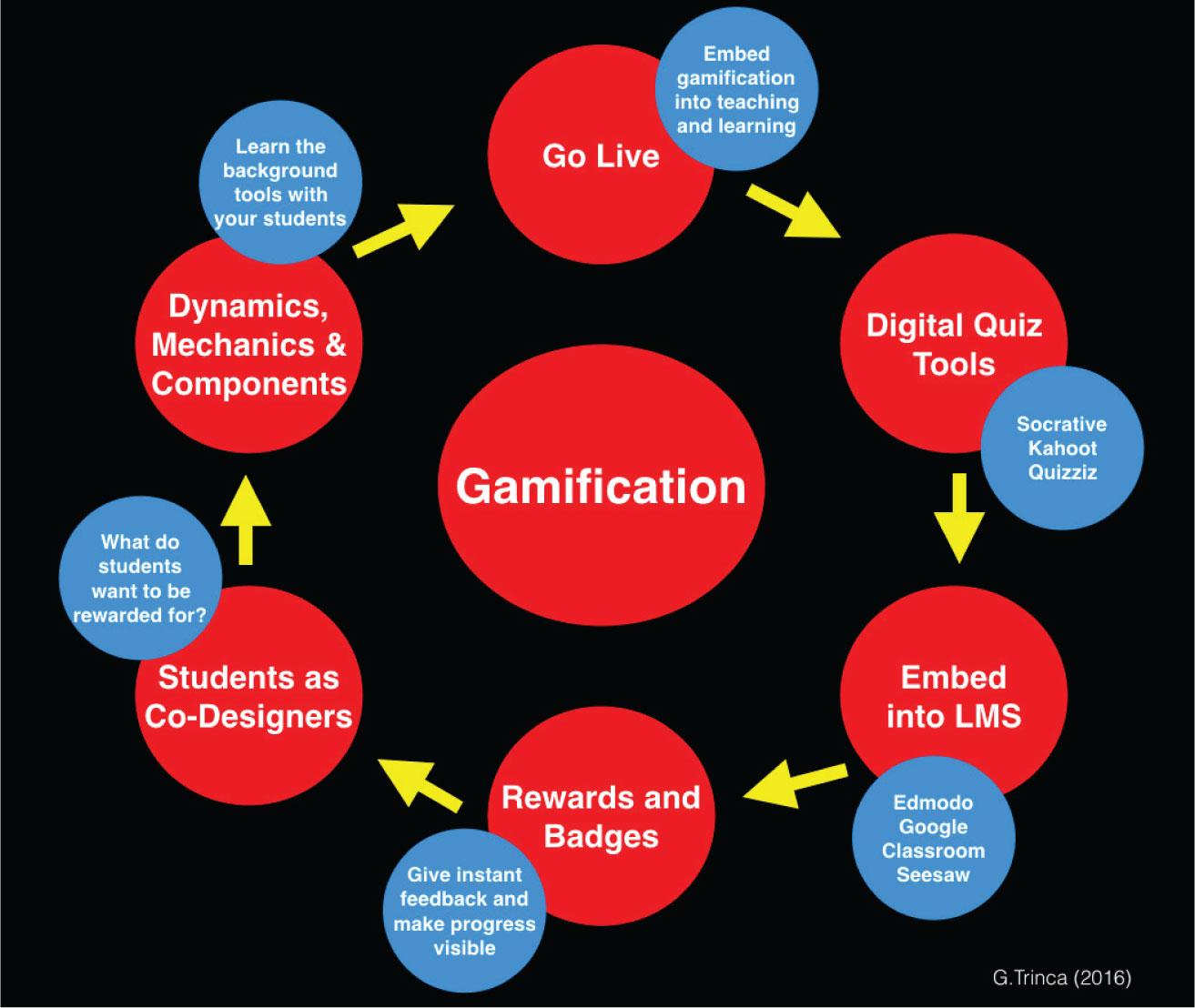 Figure 4: Gamifying the Classroom
Teaching well with technology is much more challenging than it seems. Brilliant teachers in the analogue world didn't just appear overnight. They worked at it. They were passionate about their content and their craft and their students. Every day was an opportunity to build knowledge and tweak delivery. We need the same approach to teaching with technology. We need teachers passionate about their content, their craft and their mode of delivery. We need them to be critical, reflective and experimental. And we need them to test models, develop new ones that work, share their practice with colleagues and their optimism with us.