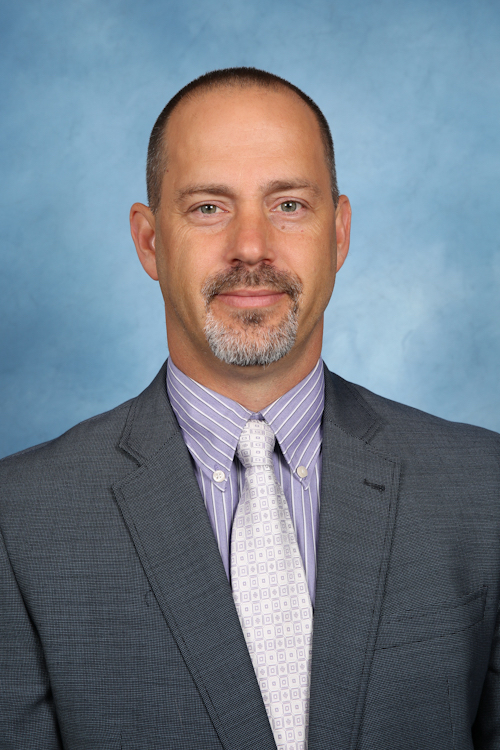 How long have you been in education, in what roles, and how long have you been in your present role?
I did my education degree overseas and obviously married an Australian and we always wanted to move here. I've been teaching in Australia now for 17 years. I started my career as a language teacher, and did that for two or three years and then began getting into IT.
Along the way, I've taught in a few disciplines, from electronics to PE and PDHPE and so forth. I've also been for a number of years a staffing officer of a high school and a head of faculty and now eLearning coordinator. 
What attracted you to specialise in technology?
As a language teacher, the use of technology was a great opportunity for us to communicate with other parts of the world and get information and so forth.
Whenever I used technology in the classroom, I saw firsthand the impact that it had, in terms of the level of interest of the students and it changed the focus and the structure of the class and I got fascinated by that. So, at that point I started delving more into IT in education...
You've got to be up-to-date with pedagogy in this area, don't you?
One of my former mentors said it's no longer being a teacher, it's being a facilitator. If you can understand the structure of the course, some kids will always be better than you, almost right away, especially at the senior level in programming.
Some of the kids that I taught in Years 11 and 12, I've got one kid right now, I actually saw him at Australian National University about four weeks ago and he's a former student of mine, and he's off to Silicon Valley in two months – he's going to try and make it big there. So, those kids, you can't really teach them but you can show them the direction when they start struggling.
What is the most enjoyable part of your job?
For me it's the trying of new technology in the classroom, and then seeing the reaction of the students and the willingness to give it a go and their ability at times to stay focussed and be more engaged. That's the key word – 'engaged' in what you are doing in the classroom.
An excellent example of that right now is in my class, we finally have the ability to use videos – recording them and putting them online and so forth, so that students are able to practise speaking and then conducting peer reviews with the kids in the class all through the BYOD system.
And, the most challenging?
There's a number of them. One of the biggest challenges I've faced is bringing the teachers along, in that a lot of teachers have been full circle, they've experienced changes before, and it's the ability of displaying and proving to them that what we are trying to do is of a benefit for our students.
Often the first thought in teachers' minds will be 'you're creating more work for us'. It's that implementing a new system that sometimes has not been proven, and a lot of new ideas do require more effort at the beginning but having a deliverable outcome that will be beneficial and that will improve student outcomes. Now, if you can sell that, then you can bring the teachers along, but that's very hard to do when it hasn't been done before.
In relative terms, how advanced is CGGS in its embracing of technology in education?
If we were to break all schools into quarters, I would say that we're probably in the top quarter, but in the bottom of the top quarter. The reason for that is simple. Over the years, before I came to the school, the school attempted, and teachers attempted, many times to introduce new technologies and new programs but the infrastructure was never there… Before our current internet connection we only had a 10 meg internet link, so as soon as, say, 20 students out of 1400 were on YouTube, it used the bandwidth, so the BYOD would not have been a possibility then.
At one point we sat down four years ago and started to create a strategic plan saying 'what are the blockers of where we want to be in four or five years', so addressing those issues, the infrastructure, which is your internet speed, your network speed, your network capability. Once we've done that, then what's happened in the last 24 months is that teachers are embracing new technologies, but it's moved the blocks. Now they're actually being able to apply what they want to do and actually not have to fight a technological impairment.
What have been a few of the exciting developments you've mentioned you've been busy with in ICT in your school this year?
A huge amount of changes for us. We are introducing a brand new LMS – learning management system – this year, so we've moved to a cloud base called 'Canvas' – so that in itself is obviously a whole new learning curve for teachers, for students, how everything is done, and obviously for the wider community as well. We allow our parents to access the LMS. We've implemented an online permission form … through a company called 'Parent Paperwork'.
So it's been the implementation, the training and application of that. In the junior school we are also in the process of implementing a programming course from Prep to Year 6, using Bee-Bots. It's part of the national curriculum, where we need to introduce programming at the primary level.
Our students competed and won the Young ICT Explorers Competition last year. We're going to do it in a very methodical way, we're going to teach the teachers, I'm going to going to go in and team teach those components of the courses until the teachers become comfortable with implementing it.
It's going to meet all of our curriculum requirements and once again, the thing I was mentioning earlier, the engagement when you bring the little Bee-Bots out for the kids, it changes the dynamic of the class. All of a sudden now they're much more focussed, they're really interested and I suppose the challenge now is how do you educate across the different fields – how do you bring mathematics, history, geography etc. It's a fun time for the kids when it's that time of the day.
If you weren't an educator, what would you like to be doing?
I'm a bit boring in that regard. I used to own a café/bakery and apart from the very long hours of working in one of those, mine was open 24 hours a day, I'd like to have a business that maybe has reasonable hours and make it a family business. I've got three girls, so getting the girls to come in and work a little bit with me, so, I guess for me I would not be looking at expanding it.
I did find a YouTube video yesterday that was sent to me about, I think, a Spanish company, and what they do is you can tell them which books you want to order and then they print a bookshelf that you put on your wall. So then when people walk around with their iPads or their phones, each book has a little QR code. So you're looking at the title on the binder and you think 'oh, I like that book' and then you click on it and it downloads onto your device. So an internet/book shop/café is something I would enjoy.
How do you enjoy living in Canberra compared to Quebec? Climate similar?
The climate is totally different. It's quite warm here. I know people complain in Australia that Canberra's cold in winter, but the if it's -6 in the morning, then you know it's going to be 12 degrees during the day and sunny – that's the average. Whereas, where I was born, the average winter temperature would be -20 to -30 degrees celsius.
Whereas here it might be cold until the sun comes up. Back home it's totally different. I love Canberra – for me it's the fact that I don't have to look over my shoulder with the kids and at night time you get a beautiful view of the stars, there's not the smog and so forth. Having said that – would I move to Sydney or Melbourne one day? Maybe, it'd be a nice experience.