The group opposes the detention of five children in MITA, and the indefinite detention of adults, including four refugees in the MITA detention centre who are approaching their 10th year of indefinite detention.
Teachers from both the independent and government systems along with members of the Australian Education Union were joined by a large contingent of Grandmothers Against Detention of Refugee Children, and representatives from the Refugee Action Collective, Befriend a Child in Detention, Mums 4 Refugees and the Tamil Refugee Council.
Organiser Lucy Honan was thrilled with the turnout.
"I think it was powerful having so many different groups coming together to speak out about what is happening," she said.
"It was a great turnout, I think it speaks to the fact that people are just so angry that they're willing to come out in such cold weather."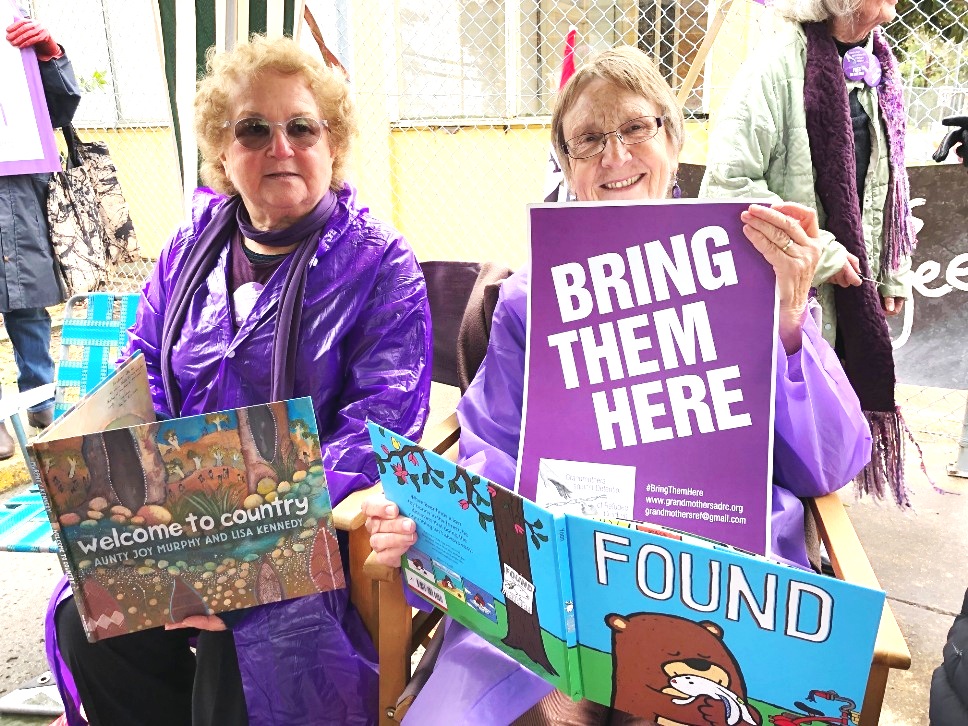 Those assembled enjoyed a range of speeches and musical performances, made signs and freedom birds, listened to children stories and sang protest songs.
The highlight was a phone video link-up with the children of Biloela couple Nades and Priya - Kopica, 4, Tharunicaa, 2, and Isabella, 15 months - who are inside MITA detention centre at present, facing deportation or family separation.
Those on the outside sang Twinkle Twinkle Little Star, and were joined by the kids inside the detention centre.
"That was a bit heartbreaking, to connect with those kids - to know that we're together in that moment, but ultimately separated and with the threat of even further separation," Honan said.
"There's also a 17-year-old boy in there who was getting tutored, getting access to one hour a day of education, and as soon as he turned 16 that was cut off.
"He wasn't in the link-up but he was definitely following along."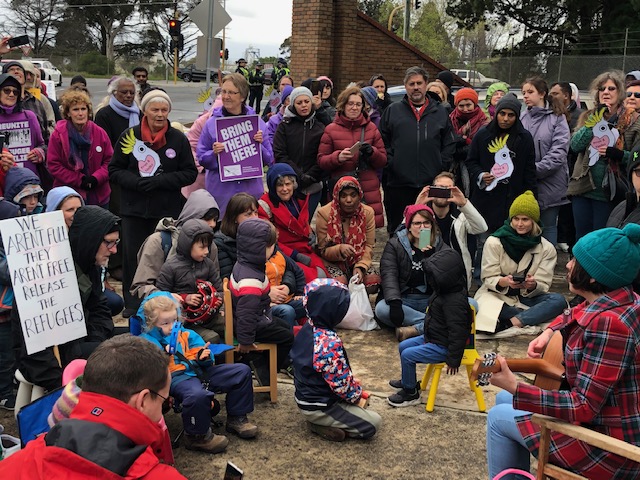 Local musician and artist Clare Younis lifted the spirits of the young children and adults outside the facility with a few songs, including Hi, Hello And How Are You while author of the much loved Far Out, Brussel Sprout children's book, June Factor, gave a rousing address.
"We're here because it's impossible to turn away," Factor said.
"I came across a statement recently from a fascinating gentleman [Joachim Prinz ], an American rabbi who was in Germany when the Nazis came to power and managed to escape – just – with his life to the US.
"He became a great supporter of the Reverend Dr Martin Luther King and, in fact, was the first speaker at that great rally in Washington [in 1963, when Dr King gave his famous 'I have a dream' speech].
"In his speech there were a few lines that I think are relevant to us.
"'When I was the rabbi of the Jewish community in Berlin under the Hitler regime, I learned many things.
"The most important thing that I learned under those tragic circumstances was that bigotry and hatred are not the most urgent problem.
"The most urgent, the most disgraceful, the most shameful and the most tragic problem is silence.'
"We are not silent," Sector exclaimed.
"And we will not be silent until every single person who has been unjustly, and, I should add, cruelly and often viciously, detained because there is an element of sadism in this project as well that is hard not to notice."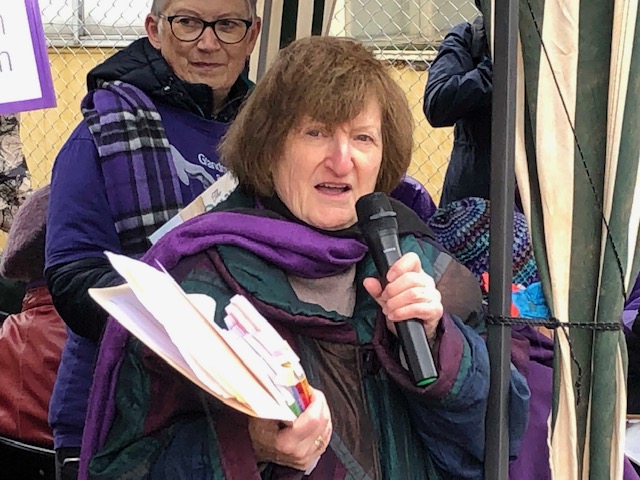 Honan says Teachers for Refugees will continue to actively oppose the ongoing detention practices of the Morrison Government.
"We want to keep up the protests, we're talking about maybe having a more regular protest out in front of MITA," she said.
"We want to keep the focus definitely on Morrison.
"The bizarre situation is that that [the children] are guests of MITA because they don't want to be separated from their parents, they're just too young.
"... the problem is that the parents are being detained.
"So our focus is still on Peter Dutton and Scott Morrison and forcing them to break with their own cruelty."