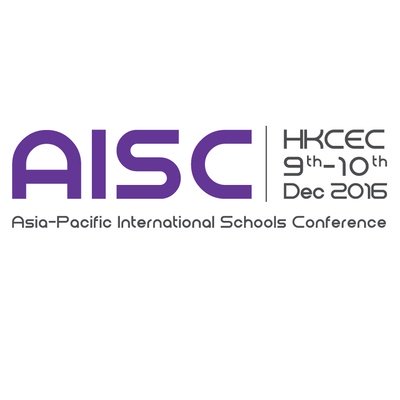 Date
December 9, 2016 - December 10, 2016
Australian Teacher Magazine subscribers enjoy 30% discount on delegate fee.
Promotional code "AISC16SO" via online registration http://www.divcom.com.hk/aisc/registration/
Staged on the 9th and 10th December in Hong Kong, AISC 2016 is divided into three special themes:
The Importance and Responsibilities of Child Safeguarding
Authentic Pedagogy in the Early Years
Student and Teacher Wellbeing
At AISC international speakers provide expertise and 400+ delegates leave AISC with actionable strategies to implement in their classrooms and schools. Be ready to be inspired by the thought-provoking presentations, case studies, expert views and networking opportunities!
General Information
Organised by: Diversified Communications Hong Kong
Strategic Partner: English Schools Foundation (ESF)
Admission: 3 tailor-made streams
Date: 9 - 10 December 2016 (Friday & Saturday)
Venue: Hong Kong Convention and Exhibition Centre
+852 3958 0531
+852 3905 9338
Original Price HKD $3,500 (Australian Teacher Magazine subscribers enjoy 30% discount)

Mr. Ira Chaleff
Author, Speaker and Leader of the "Intelligent Disobedience" and "Courageous Follower" movements, President of Executive Coaching & Consulting Associates
Ms. Jane Larsson
Executive Director of the Council of International Schools
Ms. Fiona Zinn
Educational Consultant, Lecturer of Melbourne University Graduate School of Education
Mr. Colin Bell
CEO, Council of British International Schools
For full speakers list, please kindly visit: http://www.divcom.com.hk/aisc/speakers/